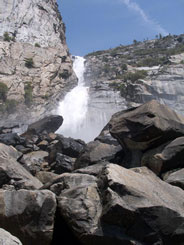 Difficulty: Moderate
Mileage: 5 mi (8 km) round-trip; 2 hours
Begin at O'Shaughnessy Dam
This trail takes you to the base of Wapama Falls, passing two smaller waterfalls (during spring) on the way. This is also a good trail for wildflowers in spring.
Wapama Falls (1,400 feet)
Flows: all year, with peak flow in May.
Relatively few people visit Hetch Hetchy Valley to see this roaring waterfall. In some springs, the water from this fall flows over the footbridges near its base.
You can see this waterfall from the parking lot at O'Shaughnessy Dam or you can hike on an uneven trail to near its base
Hetch Hetchy.
Address
Hetch Hetchy
Yosemite
CA



Upcoming Events
No events in this location