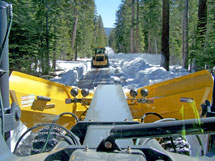 Tioga Road plowing, April 25, 2013
Last update: May 3, 2013
Glacier Point Road: Opened on May 3.
Tioga Road: Tentative opening date of May 11. Bicycles will not be allowed on the Tioga Road prior to the road opening because of rock debris and snow plow operations, which make the roadway unsafe for bicyclists and pedestrians.
Dates listed above are contingent upon safety of the park crews and on conditions. Any spring storms would result in road crews being diverted to keeping other roads open and may delay opening of the Tioga and/or Glacier Point Roads.
For up to date, 24 hour road and weather information, please call 209-372-0200.